Choosing the right property depends on several factors, the most important of which is the purpose of buying this property and the specifications of the apartment in terms of price, area, location, number of rooms…
All over Turkey, residential complexes that compete with each other with the existing services in terms of diversity, quality and luxury that they provide have spread.
This diversity of services aims mainly to attract the different social classes so that they meet the aspirations and desires of the owners and at the same time suit their financial capabilities.
In order to determine the option to purchase in a residential complex or a separate building, the disadvantages and advantages of each type must be identified.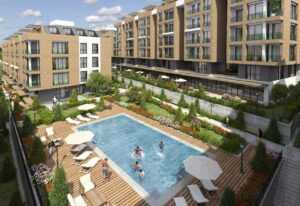 Residential complexes:
Advantages :
1- A sense of security thanks to the presence of surveillance cameras, alarm devices and guard units for each complex.
2- Calmness and peace due to its location, which is often far from the hustle and bustle of the city center, as it needs large areas to be built at the origin of its construction.
3- Services provided in each complex in addition to car parking.
4- The wide green spaces of each complex that are added to increase the walking spaces for the residents in the complex.
5- The possibility of children playing safely without fear and without the need to go outside the complex.
6- The elegant view due to the unity of the shape and the architectural style, which gives a positive impression to the residents in the complex.
7- Designed according to the latest international standards for construction and quality, and safety standards (resistance to earthquakes and natural disasters / sound insulation / heat insulation) are taken into account.
8- Subject to periodic maintenance and cleaning services.
Disadvantages:
1- Real estate prices in residential complexes are more expensive because of the higher fees for the services they provide.
2- The distance.
3- Service restrictions, as they are limited only to residents of the complex and are not allowed for any visitor or relative.
4- Costs related to revenues, services, maintenance and cleaning works.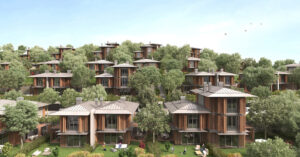 Separate building:
Advantages :
1- It is close to the city center and has easy access to transportation.
2- Low prices and therefore it is the most suitable option for owners of low budgets.
Disadvantages:
1- Lack of guard and security.
2- Overcrowding and noise.
3- Absence of car parks and green spaces.
4- The absence of services provided by the complex, and therefore the services provided by the Turkish government to the region are relied only.
The choice, whether to live inside or outside the residential complexes, is determined by your need, budget and priorities, and we at Experts Property showed you a quick comparison, and will continue with you until the appropriate decision is made
Do not hesitate to contact us to request a free real estate consultation.