Amendments were issued in September 2018 that allowed obtaining Turkish citizenship for every person who proves by documents that his family has Ottoman origins, and is registered in the souls in Turkey after the establishment of the state.
Citizenship is granted to all children, whether they are over 18 years old or younger, and whether they are single or married.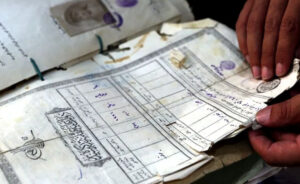 How do I find my origins?
The Ottoman Archives is a group of Ottoman historical sources from its inception in 1299 AD to its fall in 1924 AD, which lasted for nearly 6 centuries.
It is considered one of the largest archives in the world in terms of the number of documents and manuscripts.
There are several archive centers in Turkey whose employees restore and protect documents, index and translate them from the Ottoman language into Turkish to make them available to researchers under the supervision of the Research Center for Islamic History, Arts and Culture
– Go to one of the archives headquarters and present your personal ID + passport
Submit a request for permission to search the archives
And he shall obtain, on the same day or the following day, copies of the documents that were found after the payment of fees on them.
Later, the Turkish government provided an electronic link to search the Ottoman archives via the Internet with the ability to search by word or image of the original with the ability to download the original in pdf format to facilitate access to information, but searching on the site requires full knowledge of the ancient Turkish or Ottoman language.
Required documents (one of them is sufficient to apply for citizenship):
1- Birth certificate
2- Military certificate
3- Family tree that proves the existence of an Ottoman origin for the person
4- Ottoman family statement
5- Ottoman military identity
Conditions required to apply for citizenship through proof of assets:
1- Attestation of the document that proves the assets from the notary and the maqam.
2- The applicant must have any type of residence permit in Turkey, valid for two years.
3- A health report confirming that the applicant is free of serious diseases
4- A document proving the existence of a clean criminal record and the absence of previous cases or crime and the person does not pose any danger to Turkish national security.
An invitation is filed with the assistance of a Turkish lawyer with the submission of the required documents, in which DNA analysis may be requested to reveal the validity of the claim of parentage, and the decision is up to the court. The duration of obtaining citizenship ranges from 6 months to a year from the date of submitting the application.